If you're responsible for a jobsite, you want to make sure you're covered for anything that might damage it. Ensure your project can keep moving forward with construction insurance.
What is Construction Insurance?
Construction insurance (also known as contract works insurance or contractors all risks insurance) is primarily taken by commercial, residential & owner-builders.
However, it is also commonly taken out by specialist contractors engaged on these projects who must take responsibility for their own works (e.g. HVAC installers).
Most businesses will elect to take an annual policy that covers any projects which commence during the policy period. For specialist, ad hoc or owner-builders a single project policy is available too.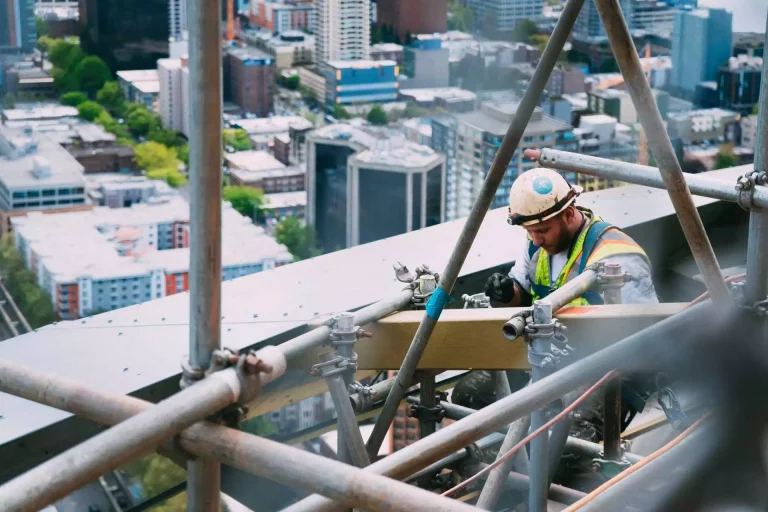 Having a customisable construction works policy means that you can protect yourself from your most likely, or most devastating, potential risks.
Your needs likely change from project to project, so a truly tailored policy will help you ensure your materials, team and business are protected.
For every new business quote and renewal, we break down all important features and comparisons for you in plain English.
Construction claim example
Aaron is a roofing contractor engaged to replace the roof on his local church. One afternoon while working on the roof, he notices a large storm approaching.
Aaron secures the roof as best he can to try and protect the site. Unfortunately, the storm is too severe and causes damage to the work he'd done, as well as the materials on site.
Luckily Aaron had contract works insurance which paid for the replacement materials, and also Aaron's fees while he redoes the work for the church.
The church is fortunate Aaron had more than liability insurance which wouldn't have responded (he secured the work).  If Aaron didn't have contract works, the church may have been stuck and unable to pay for the repairs themselves.
Consolidated Insurance Brokers can help by placing you with the best policy for your needs. We'll find you the most competitive rate possible, and offer advice to ensure your insurance protects what matters.
As brokers, it's our job to give advice. We always aim to deliver great, not just 'good', advice.
We manage your insurances so you don't have to — save precious time and effort.
Your renewals, quotes and policies will be delivered in clear, easy English — no more confusion.
With a broker, you get more comprehensive cover and benefits not available if buying directly.
Frequently Asked Questions
There are many benefits of using a broker over buying directly from the insurer. Insurance brokers:
Work on your behalf to secure you better protection through their negotiating power
Help you understand your risks and empower you to make better life / business decisions
Ensure insurers are held accountable to their promise to protect what you value during claims
Save you time and money by taking care of comparing and customising policies for your needs
Construction insurance can cover many important parts of your project, such as:
Public liability
Smashed glass
Construction equipment
Escalation or removal fees
Natural disaster and weather perils
By covering you for possible events beyond your control, your project can move ahead in the face of the unfortunate.
Get a Reply within 60 minutes.

Talk today with our team to find the right kind of insurance that will suit your needs.
Or Call our friendly team today on: